Hammertap
You gotta get Hammertap!
Okay, so I'm a BIG fan of

Hammertap.
Maybe because my sales went through the roof when I started utilizing it. Hammertap is similiar to Terapeak.  I personally never used Terapeak.  For some reason I never quite got a feel for it. But with a free trial from Hammertap I figured why not?  So I did just that!
Hammertap shows you EXACTLY what day and time to end your listing. What keywords to use (and thus which ones not to bother with.) It also shows you actual listings that ended on eBay so that you can duplicate what they did to help you increase your sales.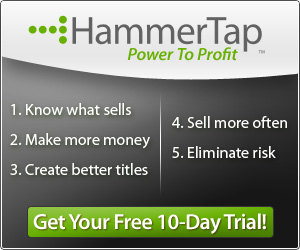 Do you want to get the highest price on an item? Hammertap shows you that. Want to have more success in actual sales vs the price? 

Hammertap

shows you that too.  I could go on and on but you really just have to try it for yourself so you can use an example of one of your own items you now have or want to list.
They have fantastic instructional videos, great support and so much more. The monthly fee does not bother me one bit because I'm having sales I
would not have had in the first place

thus it's paying for itself.
I know in

my book

I talk about Terapeak but

Hammertap

wasn't out yet so that will be updated.
Go try it out for yourself!
Brigitte